Workshops are always engaging.  It's called a WORKshop for a reason.  Each person will not only learn, but will also be an active participant in creating their outcome.  They will be challenged, broken out of the daily grind and refined until they have specific actions they can take when they return.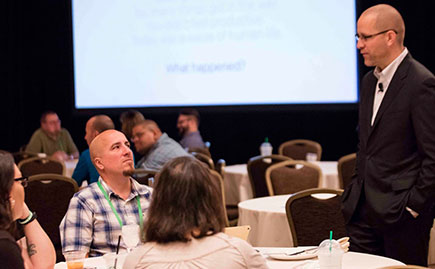 WORKSHOP TITLES
Much like my keynotes, there are other workshops I give which are similar to, or derivatives of these topics.  Please contact me to discuss your needs.
11 Secrets of the Engaged Employee
Time: 1-2 days*
(See a sample agenda)
Managers assume they know how to engage employees, yet corporate zombies are everywhere.  This workshop shows managers why their employee engagement programs are not working like they had hoped.  It also shows them what they can replace it with, what will really work, and why.
– What managers and employees think engagement is and why their ideas aren't the same.
– What employee engagement really is and why it isn't optional in a fast-paced work environment.
– Why most engagement, motivation, & empowerment initiatives and programs don't work.
– Diving into the 11 Secrets of Engaged Employees.
– Actionable steps to head them in the right direction.
We dive in deep and apply it to your own circumstances to come up with real solutions.
*This can be shortened using a "Choose Your Own adventure" style.  You choose which of the 11 to cover.
"Personally, I felt like I was challenged to open my mind, to consider new possibilities, to try something new and not worry about potential failures… The content … was not just Kevin's. The content came from everyone who attended… It was about people sharing ideas, challenging current thinking and discussing new possibilities."
– Dick Handshaw, President ISPI, Charlotte Chapter
Love Your Work
Time: 1 day
Can everyone love their work?  I believe the answer is a resounding YES.  Do you have to quit your job and start something you are passionate about?  No way.  You can love your work where you are and still grow, learn, and develop.
Sure, you will need to make changes.  And that is where you start acting rather than being acted upon.
During this workshop we will,
– Learn why it's so important to love your work.
– Realize that everyone can and should love their work.
– Learn what it takes for you to wake up in the morning excited about your role.
– Create an action plan using First, Fire Everything and the Purpose MPA Map
In the end, you will have the confidence to take charge of your career using a new set of tools that will help you be passionate about your work.
Enterprise Social Networks
Time: 1 day
Having led the creation, deployment, and management of NASA's ESN (internal collaborative system), plus those of other companies, I have a unique perspective into what works, what does not, and how to gain user adoption. Attendees will come to know some of the finer points of creating these systems to humanize work.
This is part workshop, part strategy session.  Attendees will come to know some of the finer points of creating these systems to humanize work.
Adoption Index
Time: 1/2 day
I created the Adoption Index based on the work of Everett Rogers, author of Diffusion of Innovations, (the definitive book on adoption of any technology). It evaluates the adoption of any initiative – cultural, technological, managerial…  
It is especially effective after implementation to assess the level of adoption and pinpoint how adoption can be increased.  This allows an org to focus on the parts of adoption that are lacking rather than spending valuable resources trying to guess at how to increase adoption.